AAM Voted as One of the Best Places to Work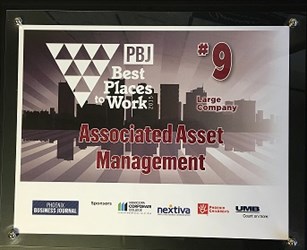 Associated Asset Management (AAM), announced it has been ranked number nine out of 20 finalists in the large size company category sponsored by Phoenix Business Journal's Best Places to Work in 2015. Headquartered in Tempe, Arizona, AAM is a nationally recognized leader in community association management and accounting services for clients throughout the United States.

This annual ranking recognizes over 100 local business, comprised of workforces ranging in size from fewer than a dozen to more than 2,000 employees, and which go the extra mile to cultivate a positive company culture, resulting in more satisfied employees. The ranking for Best Places to Work is employee driven and awarded based on survey results and AAM is proud to consistently be listed.

AAM is home to 338 local employees, with over 500 nationwide. AAM constantly focuses on ways to provide their dedicated workforce an environment that fosters not only employee growth, but overall well-being. "We care about the quality of life of our employees and truly believe that successful and productive employees are a direct product of a positive work experience," stated Nancy Larson, AAM's Executive Vice President of Human Resources.

To build and maintain this positive environment, AAM is committed to financially supporting internal training and external education and certifications for their community management staff, while also boosting career advancement with job transfers and promotions throughout the company. In addition to a competitive benefits package, they offer a myriad of wellness initiatives that all employees can participate in to reduce their health insurance contributions by up to $100 a month while also encouraging a healthy lifestyle. They host numerous events each year, such as holiday themed potlucks, food truck fairs, team building activities and raffles for various prizes that are meant to engage employees to have fun in the midst of all their hard work.

AAM also inspires their employees to give back to the communities they serve through volunteer and fundraising efforts in support of several non-profit organizations such as the Arizona Humane Society and local animal shelters, programs for at-risk women and families, school supply and clothing drives, and food donations for local food banks. Employees who donate the most volunteer time throughout the year can be rewarded with extra paid time off (PTO) or monetary bonuses.

"This incredible accomplishment could not have been possible without all of our wonderful employees who make AAM one of the best places to work," stated Amanda Shaw, President of AAM. "Awards like these are truly special because it shows that we are dedicated to not only serving our communities but our team members as well."
Ask AAM
Have a question or suggestion? Let us know below: