Dr. Steven Hansen, the new CEO of the Arizona Humane Society and Bretta Nelson, Public Relations Manager at the Arizona Humane Society are working every day to help control the homeless animal situation here in the Valley. There are many wonderful programs provided by the Humane Society to help care for animals and get them adopted. In addition, there are many unique programs to help raise money to help care for these animals while they are at shelters and in need of medical attention.  Check out the new program called "Petique" which is the first animal shelter in Phoenix to partner with a retail developer.  Having the Arizona Humane Society's presence in malls continues to successfully increase exposure and awareness about pet overpopulation within our community.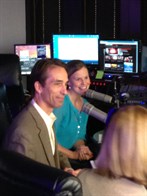 Bretta Nelson
Public Relations Manager
Arizona Humane Society
Direct 602.997.7586 Ext. 1013
1521 West Dobbins Road, Phoenix, AZ 85041
bnelson@azhumane.org
Clint Goodman, a former Mesa police officer, turned attorney is very passionate about keeping neighborhoods safe and turning an unsafe neighborhood around.  As a practicing HOA attorney, Clint is very proactive when it comes to making a difference in any community in need of help. Clint created the Crime Free Program, a program which protects communities from offenders moving into neighborhoods.  Clint encourages anyone in need of help ridding their community of crime to call his office.
Clint@glawoffices.com
http://glawoffices.com/
Goodman Law Office
4858 E. Baseline
Suite 101
Mesa, AZ 85206
Office: 877-447-5010
You can listen to the show just click the link below
http://www.associatedasset.com/videos/AAMerican_Radio_November_21st_2013.mp3