Curtis Ekmark, an attorney with over 20years of experience and the principal of the law firm Ekmark and Ekmark.  He has represented over 4200 community associations over the span of his impressive career and is an expert in the field of Homeowner Associations.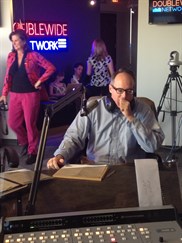 Curtis S. Ekmark
Ekmark & Ekmark, L.L.C.
6720 North Scottsdale Road, Suite 261
Scottsdale, AZ  85253
Tel: (480) 922-9292
Fax: (480) 922-9422
curtis@ekmarklaw.com
Marie Zimbro, mother of Beau Zimbro, the burn victim from the Peoria gas explosion that consumed his house on October 16, 2013.  She tells us about her heroic son.  While his house was engulfed by flames, Beau, on fire himself, was able to carry his girlfriend, who was also on fire, out of the house, saving her life. Both are severely burned and at the Arizona Burn Center.  Beau Zimbro was awarded the Neighborhood Hero award.
You can listen to the show by clicking the link below
http://www.associatedasset.com/videos/AAMerican_Radio_November_7th_2013.mp3