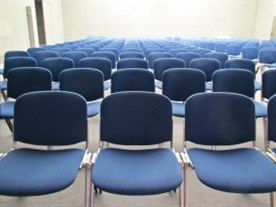 Open meetings are meetings of the association that are open to all members, including board members, members of the association and/or any person designated in writing as a member's representative.  Open meetings are intended to provide transparency of association deliberations and decisions in regards to the association; and to allow members to attend and speak before the board takes formal action.  Board meetings are typically scheduled in advance, called by the board president, or scheduled by any other means outlined in the governing documents. Unless otherwise stated in the governing documents, board meetings require at least forty-eight hours' notice via newsletter, "conspicuous posting,"  or any other means as determined by the board of directors and the notice must include the date, time, and place of the meeting. Outside of scheduled annual meetings, special meetings and other membership meetings can typically be called by the president, by a majority of the board members, or by a required percentage of the owners as called out in the governing documents or statute.  These meetings must be noticed by no fewer than 10 and no greater than 50 days before the meeting via US mail or hand delivery.   Again, notice must state the time and place of the meeting and for special meetings the purpose of the meeting must be stated.  ARS 33-1804
 Open or Regular Board Meetings – This is the most common of homeowner association meetings, typically held either monthly, quarterly or as needed. It is the forum to conduct all general business of the community such as financials, budget adoption, and other operations. Homeowners/members have an opportunity to participate and express agreement, concerns and issues to their board prior to them voting on issues.  Below is a reference list of what board packets typically include and provides an idea of topics that are covered in an Open or Regular meeting.
Agenda  -  must be provided to members at meeting
Minutes from the last meeting
Financial Balance and Budget Comparison Statement, including a variance report to explain actual expenses vs. amounts budgeted
Management report
Committee Reports
Summary of Architectural Requests
Bid information
Photographs of landscape or other common area issues
Landscape maintenance report
Information relative to items considered (i.e. draft budgets)
Water usage meter summary charts
Violations summary
Annual Meetings are mandatory meetings held once a year and require a voting quorum (determined by each community's bylaws and is usually 10-20% of members eligible to vote). These meetings typically take place to conduct elections for the Officers/ Members of the Board.
Work Sessions are meetings used by the board to discuss and review business in detail and are open for the membership to attend.   Decisions are typically not made during these meetings, they are meant for in depth discussion of budgets, landscape projects or other topics.
Special Meetings are called for a specific reason and can only address items included in the meeting notice, usually outside the scope of general business.  Examples of special meetings would be authorization of an amendment of the governing documents, a recall of one or more board of directors, vote on other issues pursuant to the Associations documents and special assessments.
 This series of Board Meeting Blogs is meant to be a quick reference to answer questions that homeowners or new board members may have. If you have any questions, comments, or topic ideas please feel free to contact me at info@aamaz.com Subject: Kathy Johnson Blog
Photo By: Christa Richert