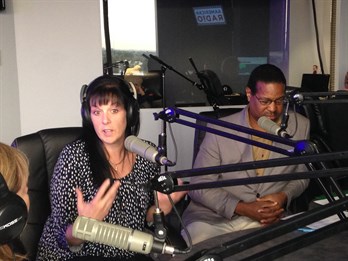 Robert Sanders and Edna Starks with IHelp, (Interfaith Homeless Emergency Lodging Program) is a fantastic organization in the East Valley that provides shelter, food, showers, basic necessities, and counseling for homeless women.  Both Robert and Edna work with IHelp and donate countless hours to make sure this organization is growing and flourishing, as it is so vital to so many homeless women in the Valley.  Their interview not only tells how to get involved, but it shares the success stories that have come out of the IHelp program. 
http://www.lss-sw.org/communities-families-congregations.asp  Or call: 480-654-4539
Angie Lunn is one of our Neighborhood Heroes.  Angie is an extraordinary woman that has dedicated a large part of her life volunteering.  In fact, she received the Clara Barton Award from the Red Cross, which is the highest award given by the Red Cross to a volunteer.  In her community, Angie has made it her mission to keep her neighborhood safe by creating an open line of communication with the majority of her neighbors.  Angie is in charge of her neighborhood watch program and she does not take this job lightly.  She enlisted the Chandler Police Department and had them come talk to her neighbors, along with a guest speaker from an alarm company to help inform her neighbors on key points of safety.  Angie also created a newsletter and is in charge of an e-mail list in order to reach her neighbors whenever necessary.  This type of communication keeps everyone in touch and familiar with one another and this keeps her neighborhood safe and well informed.  Angie also works with Rover's Rest Stop, a non-profit agency that provides temporary homes for pets that lost their homes. 
www.Roversreststop.com   
 480-600-2828
adlunn@cox.net
Listen to the show, just click the link below
http://www.associatedasset.com/videos/AAMerican_Radio_January_9th_2014.mp3