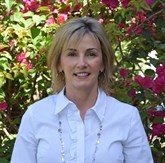 Elaine Anghel, an industry veteran with nearly 24 years of Professional Community Management experience, is AAM's Vice President of Onsite Management. Elaine's role includes the supervision of the onsite teams for several developer and lifestyle communities throughout Arizona.
Elaine's experience is an impressive blend of both practical, having served as both a Portfolio Community Manager and General Manager, and academic, with many years volunteering with local and national professional community management organizations such as AACM and CAI. This blend helps to make Elaine not only a passionate supporter of improving homeowners associations, but also one who is educated and has earned the respect of her peers and the Boards she works with. 
Through CAI and AACM, Elaine teaches classes for industry professionals, and shares how important education and ethics are to her, inspiring her students to be exceptional Community Managers and elevating the industry as a whole.
She has been nationally recognized for her long-term support of legislation that benefits homeowners associations and has served as a Chair of AACM's Professional Standards Committee for over 10 years. She currently holds CAAM®, CMCA®, AMS® and the prestigious PCAM® designations. 
Away from the office, you can find Elaine running, hiking and enjoying everything fitness related. She recently combined her passion for hiking with her love for travel, and hiked the Inca Trail in Peru to visit Macchu Picchu.