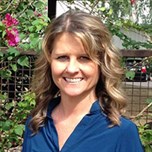 Marsha Smith, AAM's Director of Developer Services, has over 14 years of experience in the community management industry. As a nine-year veteran of AAM, Marsha has held a variety of positions including Community Manager and Area Manager before being promoted to Director of Developer Services in July 2015.
As Director of Developer Services, Marsha assists with AAM's Developer clients in all areas of business, including attending meetings to keep them updated on their existing communities and working with them on new communities from start to finish. She is actively involved from the time the developer has a conceptual plan, through the acceptance of common areas, to delivering total peace of mind when the community is able to smoothly transition to a Homeowner-controlled Board.
Marsha's robust knowledge of all aspects of community management, the culmination of her active involvement with numerous builders and developers and ability to cultivate strong rapport with them, has led to her success within the Developer Services Department.
"The experience I gained while working with developers as a Community Manager and an Area Manager has greatly prepared me for my current role by helping me to better understand their specific needs. I focus on building strong relationships and learning as much as I can from them about their business and how they operate," said Marsha.
Away from the office, Marsha is a true travel fanatic and enjoys anything outdoors, including snowboarding and scuba diving.