5 Most Significant Challenges Facing Neighborhoods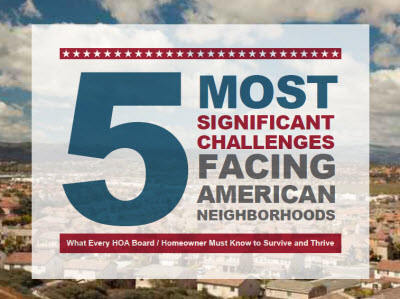 The 5 Most Significant Challenges Facing American Neighborhoods
What Every HOA Board & Homeowner Must Know to Survive and Thrive
This groundbreaking new study of American homeowners is critical to your success and well-being.
Request your copy of this important free report using the form at the right.
The U.S. population is changing, our communities are becoming more diverse and homeowners are experiencing new and challenging situations. The pace of life keeps speeding up, technology is evolving and people are connecting with each other less. Americans are busy, distracted, self-absorbed and transient.
Did you know that only 25% of Americans know most or all of their neighbors' names?
AAM began to notice a disturbing set of trends about the state of communities. As a result, and as a service to our clients, we have conducted a full research study to investigate these trends, particularly in the communities we serve, and what we can do about them.
Contact us today to learn more about our neighborhood management services. Call 1-800-354-0257 or request a bid online.
About AAM
AAM is one of America's most-respected Homeowner Association (HOA) management companies. With 25 years of community management company experience to our credit and hundreds of associations under management, we are Dedicated to Delivering Total Peace of Mind. 
5 Significant Challenges
Request your copy of the
groundbreaking new study
5 Most Significant Challenges
Facing American Neighborhoods.
The page you are trying to view requires that you have JavaScript enabled.  The browser you are currently using is either blocking JavaScript or doesn't support JavaScript. 
If you are unsure of how to turn JavaScript on or would prefer not to enable it, feel free to call us at 602-906-4940 or 866-516-7424 for a hard copy or for assistance in processing your request.
The Information Really Opened My Eyes
"AAM is an exemplary community management company; providing professional, highly-trained staff, state-of-the-art technology, myriad resources, and quality customer service. Their philosophy to become part of the communities they manage results in cost-effective partnerships that benefit Boards, residents and service providers alike." - Peggy C., The Villages at Rancho El Dorado