High Performing Culture - The AAM Way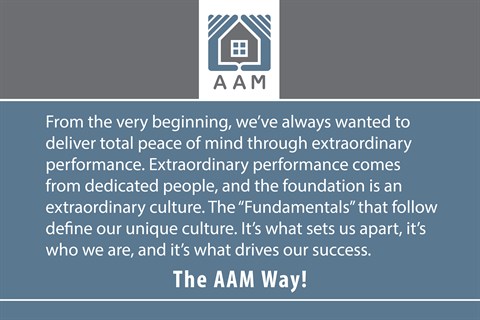 In April 2016, all of our employees attended a High Performing Culture presentation where they were introduced to 30 Key Fundamentals, collectively known as "The AAM Way!" The objective of this companywide initiative is to promote a culture that drives both individual and company success while ultimately increasing employee satisfaction.
From our inception, AAM has always been dedicated to delivering total peace of mind, demonstrated through our exceptional performance, fueled by our committed staff and built upon the foundation of our extraordinary culture. "The AAM Way" is what sets us apart, it's who we are as a company and it's what accelerates our continued success.   
Each of the 30 Key Fundamentals used to make up "The AAM Way" were carefully crafted to help us achieve a truly world-class, high performing culture, both internally and externally. A culture that upholds an environment that empowers our employees to work cohesively and reach their fullest potential.
From "Do the Right Thing" to "Take Ownership" to "Listen Generously" to "Think and Act Like an Owner," all the way down to #30 – "Keep Things Fun," our goal is to inspire our employees, foster their career growth and stimulate company success – "The AAM Way!"