Thank You City of Peoria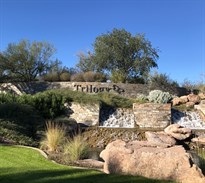 A big thank you to the City of Peoria for continually supporting the Trilogy at Vistancia Community Association through their generous Neighborhood Grants Program! For the 3rd year in a row, Trilogy at Vistancia has received a grant to go towards various community improvement projects.  
The City of Peoria's Neighborhood Grants Program was designed to assist with neighborhood-based improvement projects, in order to keep neighborhoods throughout the city looking beautiful and properly maintained. The city will award up to $12,000 to be used towards eligible projects.
With the diligent help of Trilogy at Vistancia's Board of Directors and Landscape Committee suggesting improvement ideas and their Director of Community Association Jennifer Thomasson facilitating and submitting the applications, the community has successfully been awarded the following grants from the City of Peoria:
In 2014, they received a grant to install flow meters in the community for water conservation, in the event the community experienced a large break. 
In 2015, the community received a grant toward the installation of bollard lighting to improve safety along a dark stretch of one of the streets. 
In 2016, they were awarded funds to complete the flow meter installation project in the original landscaped areas of the community. 
Trilogy at Vistancia greatly values and appreciates the close partnership they have established with the City of Peoria. Through the Neighborhood Grants Program, they have been thrilled to be awarded funds that have gone directly towards the safety, efficiency and overall betterment of the community.