HOA Hurricane Preparedness
Hurricane season officially season begins June 1st and runs through November 30th. Unlike a tornado that comes upon a community rather quickly, a hurricane can build for weeks at a time, with the forecast changing from day to day. But like a tornado, if you don't prepare properly, the damages could be felt for years to come with a direct landfall.
Why does an HOA need to have a Hurricane Preparedness Plan?
It is part of an HOA's duty to protect the well-being of their community and act in the best interest of their residents. Although having a Hurricane Preparedness Plan will certainly not save your community from being hit by a hurricane, it will assist your association and residents to be prepared when the time comes. Ultimately, having a plan will help minimize health, safety, and monetary risks for the entire community.
Roles the HOA plays in preparedness:
Creating a Hurricane Preparedness Plan
It is essential that associations, especially those located in states regularly threatened by hurricanes, tornadoes, and other natural disasters, review their emergency preparedness plans periodically and always keep their residents informed and prepared for when these situations occur. An emergency preparedness plan should already be in place for your HOA, but it is essential to revise it and update it as necessary. We recommend discussing updates to your emergency preparedness plan during your HOA annual meetings. If your association does not have one yet, which may sometimes be the case, it should be your top priority to develop one. If you need assistance creating one, reach out to your management company or contact AAM today to assist you.
Conducting Regular Inspections and Maintenance
As part of your HOA's responsibility to protect the community, your association or management company should conduct regular inspections of your community's shared facilities, including roofs, windows, landscaping, mechanical equipment, etc. These inspections will allow you to identify potential safety hazards in advance and evaluate the need to change the community's buildings or infrastructure before the storm hits. In addition, it is recommended that, for insurance reasons, you videotape or take pictures of community assets and common areas while everything is working properly. Ideally, these should be time and date-stamped.
Keeping Everyone Informed
Keeping residents and staff informed during these situations of uncertainty is of vital importance. Residents expect answers, and your HOA should be ready to provide them before, during, and after an emergency occurs. Before the hurricane season approaches, share a digital copy of your Hurricane Preparedness Plan with your residents and staff. Additionally, use emails, flyers, and notices on your community website to share important information about the hurricane season, how to be prepared, how the association will handle certain situations, and what to do during and after a hurricane. For example, residents might be required to secure trash cans and furniture in their backyards to avoid significant property damage. Your HOA should make sure that all residents are aware of this policy, as well as the penalties imposed for noncompliance. Also, be prepared to share local governmental updates, such as voluntary or mandatory evacuation notices.
Post-Storm Cleaning and Repairing
Once the storms have passed, your HOA's responsibility is to conduct a damage assessment tour throughout the community's common areas and reach out to the corresponding vendors to start the cleaning and repairing processes.
What is included in an HOA Hurricane Preparedness Plan?
A Hurricane Preparedness Plan will serve as a guide for your HOA, specifying protocols and procedures. The following are items that you should include in your HOA's Hurricane Preparedness Plan:
Hurricane Supply Kits
Provide your residents a list of essential items or supplies they will need to have handy before and whenever a storm is approaching. Important things include cash, personal documents, non-perishable food, water, clothing, medications, personal hygiene items, a fully charged cell phone, etc.
Roles and Responsibilities
Specify the roles and responsibilities of the HOA before, during, and after the emergency occurs. For instance, what will the association communicate to residents, and what mediums will be used? Text messages, emails, community website? Similarly, specify what is expected from the residents to preserve their safety and the community's safety.
Standard Protocols
Share a list of standard procedures for different situations. For example, what to do if water or electricity are shut off, flooding occurs, or if the government issues an evacuation notice. Evaluate all the potential situations residents might be exposed to and determine the safest plan of action for them. Remember that not everyone has experienced hurricanes before, so what might seem like an obvious solution for some might not be for others.
Site Plan
Include a site plan or map pointing out critical areas in the community and access to water valves, lift stations, generators, etc. In some cases, local officials will instruct communities in the most threatened areas to turn off electricity, gas, and water before evacuating.
Evacuation Plan
Establish a detailed evacuation plan and include a map highlighting emergency exits, evacuation paths, nearby shelters, gas stations, and drugstores.
Instructions for Re-entry
If an official evacuation notice has been issued, advise residents to be patient and not to re-enter unless state/county officials have allowed doing so. Your residents must stay updated with the latest news from the most reliable sources, and your HOA could help by providing a list of the most dependable sources of information.
Emergency Contact Information
Provide a list of all-important contacts, including your HOA Board members, Community Manager, insurance providers, relevant vendors, and other emergency services. It's essential that your HOA also has access to all residents' contact information and home addresses.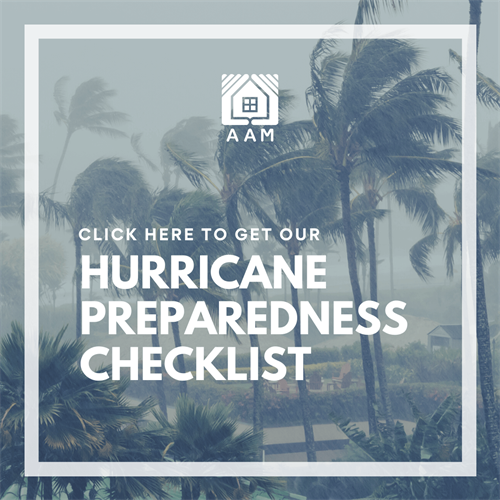 How can AAM help prepare your community?           
AAM has plenty of experience preparing a community in the event of a storm. With community partners from Florida through the Carolinas, 80% of the communities we serve are on the coast and could be impacted by every gulf or Atlantic storm. From those experiences, we can build a plan for each community that covers Pre, Mid, and Post Storm.
Working with local authorities and the Board of Directors, our preparation and execution of the personalized plan for the community not only mitigate damage but, in some cases, saves lives. In addition, we can work with the Board and their CERT (Community Emergency Response Teams) on planning, preparation, drills, and execution to preserve the common properties and ensure that all owners heed the warnings and prepare for their safety.
Our ability to work with our Preferred Vendors on the staging protocols ensures our team can have the workforce available when others may be stretched for help. This also enables our team of management professionals to focus on residents' immediate needs and concerns to prepare for recovery once the storm has passed.
Does your current management company have a plan for you? If not, give us a call and let AAM build a plan for your community.