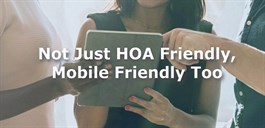 AAM recently launched mobile friendly and responsive versions of both its websites, AssociatedAsset.com and HomeownerResources.com. 

With smartphone and other mobile device usage continually on the rise as the favored media tool, AAM recognized the immediate value of incorporating mobile responsive websites to ensure its clients have the best experience possible. Redesigned from the ground up, AAM's new sites offer faster download speeds while properly displaying the contents on mobile devices by making the text larger and easier to read, including mobile friendly navigation, touch-friendly buttons and page elements. 

AssociatedAsset.com, AAM's company website, provides an enhanced reading experience, with a focus on simplicity and easy site navigation. From any device, prospective clients, Board members and homeowners alike can learn about AAM's industry leading management products and services, tenured leadership teams, commitment to advanced technology and security practices, explore career opportunities, stay up-to-date with business news/trends and current HOA legislation and much, much more. 

HomeownerResources.com, AAM's dynamic and exciting homeowner-centric website, offers a fresh new way for homeowners to stay connected with AAM. From easy to submit forms, to making a payment, to locating community websites, the new look and feel of HomeownerResources.com was developed specially with homeowners and their communities in mind. 

"With greater ease, our clients are now enjoying the benefits of having full access to our websites right at their fingertips," said AAM President Amanda Shaw. "Our new mobile friendly platforms create peace of mind by giving our clients the opportunity and ability to connect with us easier and faster than ever before, while also enhancing their overall user experience."
To view AAM's online press release, please click here.