HOA Budgets
The 2021 HOA budget season is fast approaching. Using the simple guidelines below, your Florida licensed Community Association Manager (CAM) will begin working with the Board to prepare and adopt a financially sound annual budget. In addition to the operating budget, this process should also include a budget for anticipated reserve fund activity. There are likely unique items for each association but this guide will serve as a starting point for budget items commonly found in most associations.
1) Know your community. Review your governing documents so you are aware of any specific Association budget requirements for your community. Review all short- and long-term projects so annual cash flow covers operating costs. Also, become familiar with the resident notice requirements so all owners are aware of the budget.
2) Contact existing vendors to find out what their anticipated increases may be for the coming year. Examples of these operating items include contracts for landscaping, pest control, pool maintenance, etc.
3) Evaluate your maintenance and utility expenses. You can contact local utility companies and they will tell you what their increases will be for the next year. You can then use historical information to compute the estimated annual expense. When budgeting certain utilities, it is important to plan for seasonal trends in utility usage. 
4) Review your most recent reserve study so you can properly allocate the expenses into your budget. The budgeted reserve contribution should be evaluated on an annual basis to determine if short- and long-term reserve funding goals are being achieved.  
5) Anticipate and allow for any unexpected expenses. Are you aware of any lawsuits that may be forthcoming and the potential associated costs? Are there insurance claim related projects or deductibles that are not part of the normal annual budget? Will a Special Assessment incur additional administrative costs not incurred in prior years? Has there been a substantial change in owner delinquencies and does the allowance for bad debt need to be adjusted?
6) Determine how much revenue is needed to cover association costs. Once your expenses are determined, calculate the homeowner assessment based on the association billing cycle whether it is annual, semi-annual, quarterly or monthly. Assessment increases should be carefully evaluated each budget season. This discussion might not be a popular one but prudently approving increases when needed will ensure sustained financial stability for the association.
7) Properly notify your fellow homeowners using the means outlined in your governing documents. Timeliness of the notification is very important as well as providing information in a manner that is easy for homeowners to understand. 
---
BONUS TIPS:
Compare previous line item costs to identify trends and allow for any adjustments. Your management company's accounting team should be able to provide prior year data. Compare the prior year budget to the current year as well as current year projected actuals to prior year actuals. 
Include notes or a detailed budget narrative to explain line item costs if relevant.
Forming a Budget Committee can be helpful to add homeowner input and process transparency as to how association budget decisions are made. 
---
HOA BUDGET EXAMPLE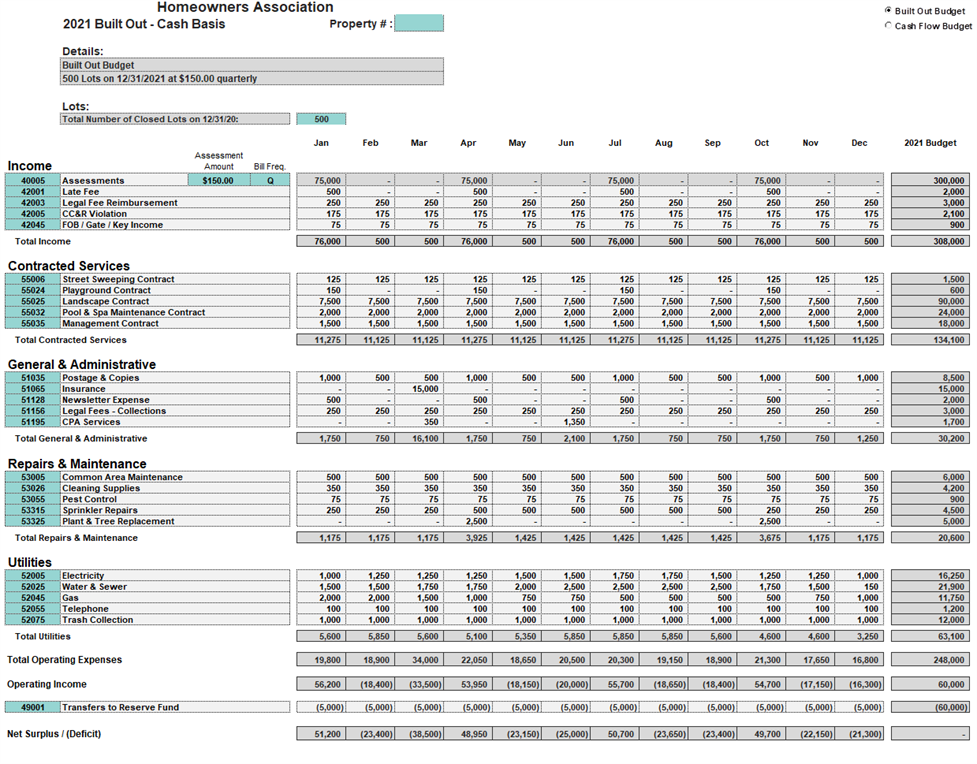 The budget process can be challenging and even tedious. Following the guidelines listed above should assist in the process of creating of the association's annual budget.
If you are not getting the assistance you need from your current association management firm, please feel free to contact AAM and we will be more than happy to help your community.
---
---